Rule changes aimed at making room for more household solar systems and batteries on the grid would be unfair to current owners, some say
Michael Streatfeild was an early solar adopter. About a decade ago he withdrew $15,000 from his mortgage to install a 3.6kW system of panels on a north-east facing section of his roof in western Sydney.
Three years ago, in a bid to wipe out his reliance on coal-fired grid electricity, he added a 4kW system and positioned it to catch sun later in the day, when it comes from the north-west.
The sharp fall in the cost of solar in recent years meant the second system, though bigger than the first, cost just $5,000, a third of what he paid in 2011. Together, the two systems have all but wiped out his electricity bills – his last two brought refunds of about $100.
Streatfeild is part of a rapidly expanding Australian story. About 2.8m households have solar systems, with another 3m expected to join them over the next decade. The flood of solar energy those houses create in the middle of the day when the sun is high is rapidly and dramatically transforming the electricity grid.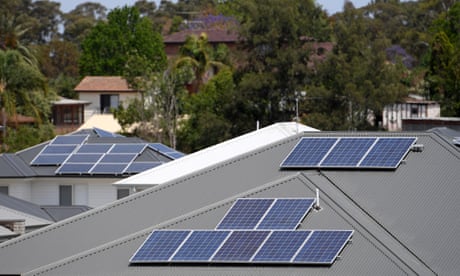 At peak moments, slightly more than half the electricity across the national market is now from renewable sources, compared with about 30% across the year. In his first speech this week, the new head of the energy market operator, Daniel Westerman, set a target of the entire grid being able to run entirely on renewable energy, at least for brief moments, by 2025.
Read more below by clicking the link below: sources: https://www.theguardian.com/
https://www.theguardian.com/environment/2021/jul/16/australias-sun-tax-solar-energy-supporters-split-over-how-to-make-electricity-grid-fairer